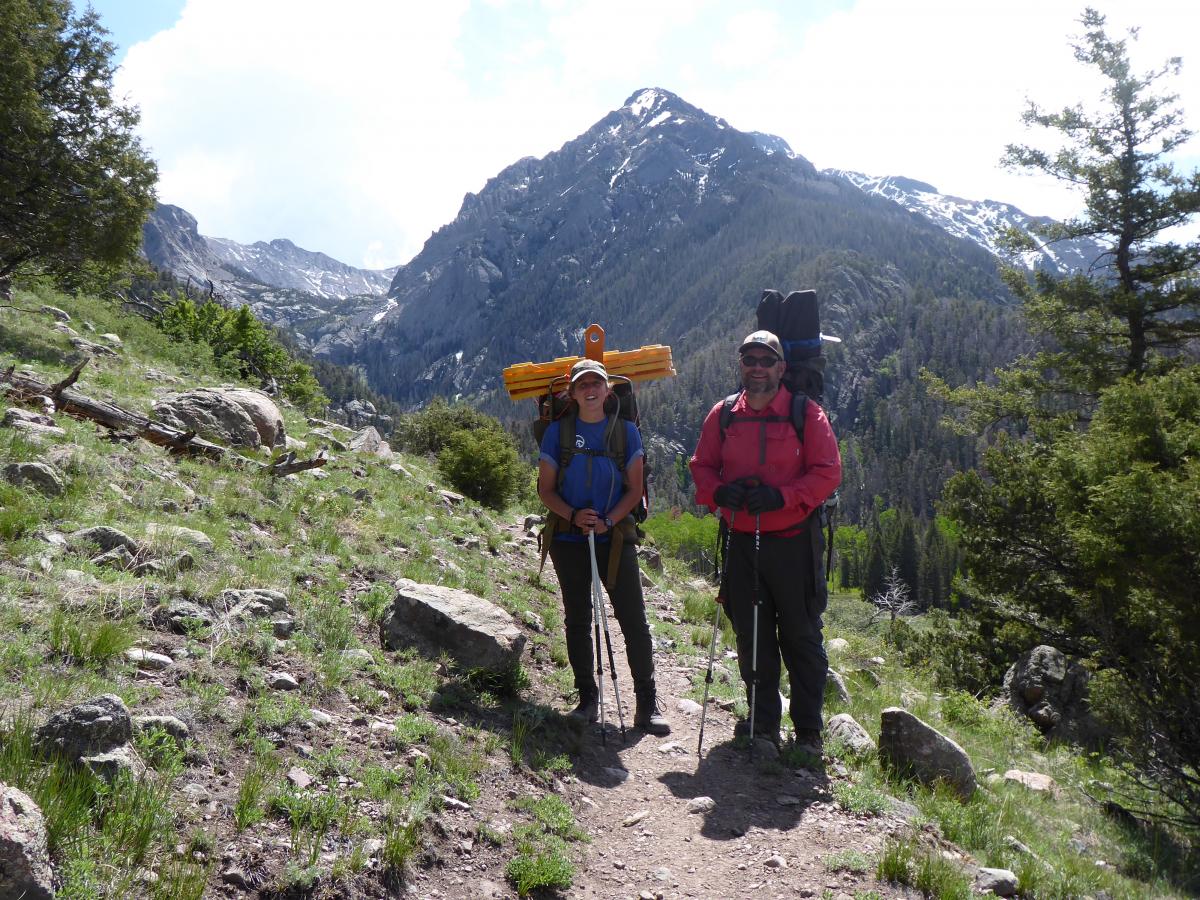 Friday, September 13, 2019
to
Sunday, September 15, 2019
18, or 16 with an adult volunteer
On September 13, the Kit Carson-Challenger Ridge Trail Realignment Project will come to a close for the 2019 season. (We'll be back in June 2020!) Thanks to an amazing crew of volunteers, this past spring we packed our entire summer basecamp in to the Willow Lake Basin in a single weekend! Now it is time to pack back out!
Join us for some hiking along the beautiful Willow Creek Trail between the trailhead and the basin. This is a steep ~5 mile hike that gains approximately 2,800 feet in elevation. Carry almost nothing for the uphill and return on the downhill carrying some of our basecamp and project equipment for a roundtrip total of almost 10 miles. This is the easier way and will be a fun day or weekend of hiking with a great group of people. Help us by carrying a load down on 1, 2, or all 3 days!
DATES AND SCHEDULE - FRIDAY, SEPTEMBER 13 - SUNDAY, SEPTEMBER 15
Each day we will be carrying pack-out loads from the Willow Lake Basin. Some volunteers and staff involved with the September 9-13 Volunteer Trailwork Week (see earlier calendar event) will already be up top ready to carry items down. Other volunteers will meet RMFI staff at the Willow Creek Trailhead, outside of the town of Crestone, by 8:45am. We will hike up to the basin together to pick up the items and return back down to the trailhead. Help us carry a load on 1, 2, or all 3 days of the pack-out weekend!
CAMPING OPPORTUNITIES:
Camping will be available at the trailhead for those packing gear on multiple days (meals provided for those packing multiple days!). There is a pit toilet at this trailhead but no running water. Please plan accordingly. You will need to bring all of your own personal car camping equipment as well (tent, sleeping bag, pad, camp mug, large backpacking backpack, etc.).
REGISTRATION REQUIREMENTS
This is a very strenuous hike at altitude. Little weight will be carried up but we will have heavy loads on the way down. Participants must complete the online registration form which includes questions pertaining to medical history and physical conditioning. (See link to register above.) 
No prior experience is necessary, however, participants should be in good physical condition and comfortable backpacking

 at elevation

. 

Participants are responsible for transportation to and from the Willow Creek Trailhead (Crestone, CO). Carpooling opportunitites from Colorado Springs may be available.
Questions? Contact Molly Mazel, Volunteer & Partnership Coordinator, molly@rmfi.org, (719) 471-7736 ext. 4#