Pikes Peak Regional Crew Leader Training
About PPRCLT
The 2022 training was a success! Stay tuned for information on the 2023 training!
**
The Pikes Peak Regional Crew Leader Training will take place from Saturday, April 30 through Sunday, May 1, 2022. The training will occur on the campus of the University of Colorado Colorado Springs (UCCS), Ute Valley Park, and the Heller Center. Scroll down for more information.
The Pikes Peak Regional Crew Leader Training is an intensive weekend-long training for experienced volunteers who are interested in becoming certified Volunteer Crew Leaders. The training is hosted in partnership by Rocky Mountain Field Institute, Trails and Open Space Coalition, and the City of Colorado Springs, Parks, Recreation, and Cultural Services Department. 
Volunteer Leaders Expand Our Impact
The Crew Leaders
Each year, thousands of volunteers donate their time to help care for parks, trails, and open spaces in the Pikes Peak Region. This generosity of time and labor is necessary for the upkeep of our local parks, but has also created a need for trained volunteer crew leaders who are able to assist land managers and stewardship organizations by leading these critical trail and restoration projects. While in the training, participants will learn how to lead safe, successful trail projects and develop basic trail construction and restoration skills. These Crew Leaders then go through a certification process involving two shadowing leadership workdays in partnership with the training organizations, RMFI, TOSC, and the City of Colorado Springs. Once certified, Crew Leaders must maintain their certification by helping to lead, at minimum, one trail or restoration project day each field season.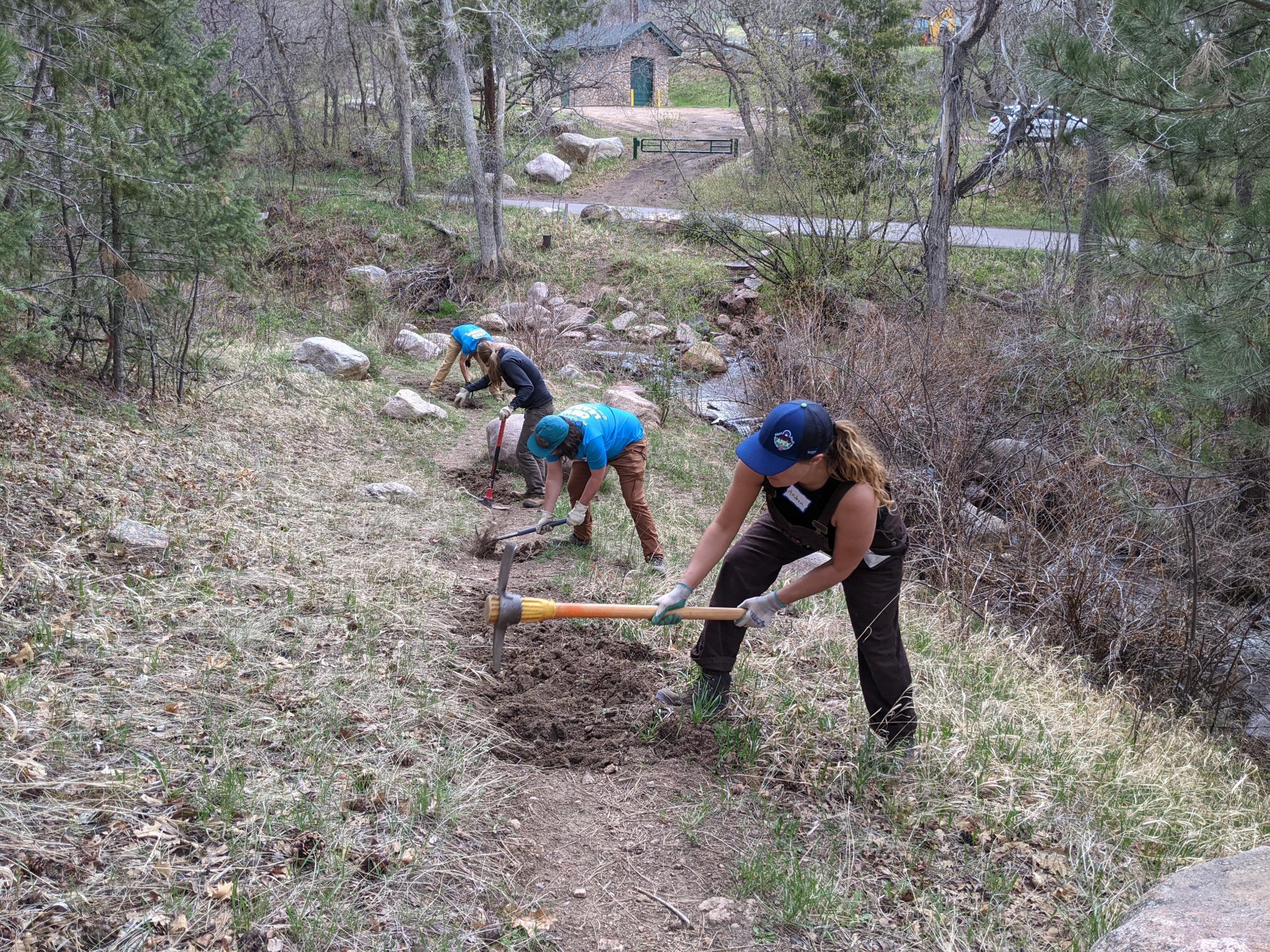 Saturday, April 30 (DAY 1)
7:30am: Registration
8-8:15pm: Welcome, Land Manager Introductions, Safety
8:15-8:45am: Leave No Trace Presentation
9am: Leave for Work Sites at Ute Valley Park and UCCS Campus
9:30am: Trail Walk and Talk
10:30am: Tool Talk
11am: Lunch
11:30-15:00: Work
15:00-15:30: Wrap Up / Questions
Sunday, May 1 (DAY 2)
7:30am: TOSC Presentation on Leadership
8am: RMFI Presentation on Restoration
9-11am: Restoration Work Near Heller Center
9:30am: Trail Walk and Talk
11am: Lunch
11:30-15:00: Restoration Work Near Heller Center
15:00-15:30: Wrap Up / What is Next?
Training Videos
Trail Tool Videos!
These videos were created by the Colorado Springs Parks, Recreation and Cultural Services Department and provide general overviews of tool safety and common trail tools used in stewardship projects. 
2. Tool Talk Set up and Earth Breaking Tools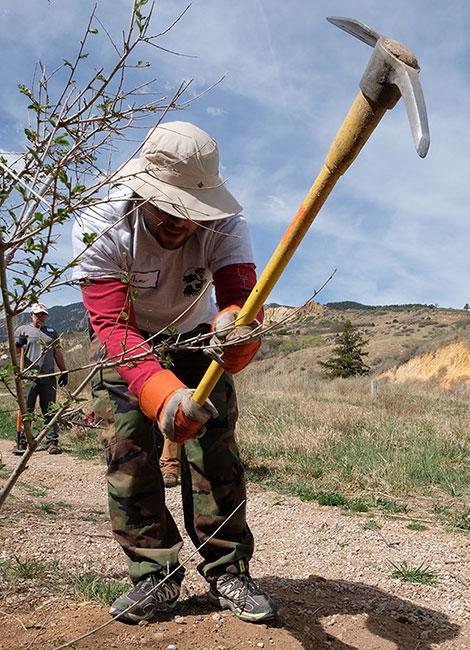 Eligibility & Certification
PPRCLT is designed for experienced trail and restoration volunteers looking to advance into a leadership role.
Applicants must have prior trail workday experience in order to participate in this training.
In order to be eligible, candidates should:
Have participated in at least two trail or restoration workdays prior to being enrolled in Crew Leader Training. 
Must be able to pass a mandatory criminal background check (at no charge to the trainee). The background check will be sent to applicants prior to their acceptance in the training. 
In order to become fully certified, trainees must:
Attend the full 2-day training
Complete 2 additional certification workdays as an assistant Crew Leader under the guidance and supervision of either Rocky Mountain Field Institute or Friends of the Peak. These certification days must take place within the same calendar year as the completed training weekend.
Apply Today!
Ready to take your volunteering to the next level and become a certified volunteer Crew Leader? 
Registration will open on February 3, 2022. In the meantime, you can view details about crew leader training at the link below.
Before you apply, you must have previously participated in at least two trail workdays. If you have not previously participated in two trail workdays, there is still time! Visit www.rmfi.org and/or www.trailsandopenspaces.org for a schedule of upcoming workdays that will take place prior to the training. 
Yes. If you cannot attend the entire weekend-long training, or will not be available in the season to complete two subsequent certification workdays, please do not apply. Most certification workday opportunities will occur prior to October 1, 2022.
When the certification workday schedule is finalized, it will be sent via email to all who are registered for the training, along with instructions for signing up. Space on each certification workday is limited to two certifying Crew Leaders. Sign up early! Trainees must sign up for their two certification days no later than the last day of the weekend training course.
We ask that certified crew leaders lead at least one project per work season. Your certification will automatically renew each year that this requirement is fulfilled.
Before filling out the program application and paying the non-refundable application fee, you may contact Calla Balliett the Volunteer and Partnership Coordinator, at [email protected] or 719-471-7736 to discuss any concerns about the background check.
Upon successful completion of the two certification workdays, Crew Leaders will receive an official Crew Leader certificate and wallet card recognized by the City of Colorado Springs, the El Paso County Parks Department, and all partner trail groups. The certification is renewed annually after each year that the holder actively serves in a Crew Leader capacity and renews their annual background check.