Make a Difference
Volunteer with RMFI
We rely on the generous support of volunteers to help make the work we do possible. We offer many different ways to volunteer and would love to have you join us in whatever capacity makes sense to you and fits your needs.
COVID-19 Planning & Response
There have been many inquiries about giving back to our public lands, and we appreciate your enthusiasm, but this will be a slow process and many may not get the opportunity to volunteer with RMFI this season due to group size restrictions and limited volunteer opportunities. Again, we appreciate your flexibility and understanding during this time. 
Please review our FAQs below in their entirety prior to registering for a volunteer day. And please feel free to email Volunteer & Partnership Coordinator, Elise Moeller, at [email protected] if you have any additional questions!
FAQs from Volunteers During the COVID-19 Pandemic
At this time, we are only allowing volunteers who are 18 years of age or older to participate in our volunteer workdays. In addition, if you are part of an at-risk group, you are encouraged to continue to stay at home unless absolutely necessary. Also, if you live with or are in close contact with vulnerable individuals, we ask that you reconsider participating in RMFI activities at this time.
At this time, we are requiring all volunteers and staff to wear masks throughout the day, except when drinking, eating, and/or taking a break from working. While removing your mask, you must be at least 6 feet away from staff and fellow volunteers.
To abide by Governor Polis' guidance, we have limited our group sizes to 10 or fewer including staff. For example, if 2 staff are scheduled to work on a volunteer day, that allows space for a maximum of 8 volunteers. 
Yes! RMFI is requiring all volunteers to register online to avoid unnecessary contact when exchanging paper copies of waivers and/or questionnaires.
If you are having trouble registering online, please contact Volunteer & Partnership Coordinator, Elise Moeller, at [email protected]!
Yes! When registering online, you will be prompted to sign an additional waiver related to COVID-19 as well as required to complete a mandatory screening questionnaire* to self-assess your health and potential risk.
*This screening questionnaire will not be mandated for our Devils Playground Volunteer Weekend. Our partner, Volunteers for Outdoor Colorado, will be conducting an on-site screening questionnaire as well as taking volunteers' temperatures.
Beginning in August, we will be allowing volunteers ages 16 years and older to participate in our closed group workdays, but not in our community workdays. For our community workdays, we will continue to only allow volunteers 18 years of age or older to participate in the event.
Closed group workdays are when a specific organization, company, or school have a day reserved solely for their group. Community workdays are when individuals can sign up for a workday with no group affiliation needed.
If you are part of an at-risk group, you are encouraged to continue to stay at home unless absolutely necessary. Also, if you live with or are in close contact with vulnerable individuals, we ask that you reconsider participating in RMFI activities at this time.
Definitely! We will still allow groups to volunteer with us as long as their total group size is 10 or fewer, including our staff.
However, we will have a smaller amount of available days for volunteer opportunities, so there is the potential that we cannot accommodate your group this season. Contact Volunteer & Partnership Coordinator, Elise Moeller, at [email protected] for more information!
In addition to what we usually require volunteers to bring, we ask you to bring your own work gloves, eye protection (protective glasses or sunglasses), mask, extra water (to avoid use of a communal water jug), and hand sanitizer. 
All necessary items will be highlighted in your registration confirmation email from the Volunteer & Partnership Coordinator.
RMFI is only allowing volunteers to participate in projects where a 6-foot distance can be maintained at all times. This will limit the amount and location of various volunteer days.
RMFI will not permit you to volunteer with us if you are feeling sick, no matter the severity. A self-assessment of your symptoms is highlighted in our mandatory screening questionnaire through online registration.
If you become ill after registering to volunteer with RMFI, email Volunteer & Partnership Coordinator at [email protected] immediately to cancel your registration. You are not permitted to volunteer with RMFI if you are feeling sick.
All volunteers are required to monitor themselves at a minimum of 7 days prior to and the morning of their scheduled RMFI volunteer workday to certify that they are symptom free. In accordance with the CDPHE Safer at Home guidelines, we are requiring volunteers to:
Take their temperature

If a volunteer's temperature is at or above 100.4°F on the morning of the scheduled volunteer workday, they are not allowed to attend the workday. Volunteers should notify 

[email protected]

 that they are unable to attend the workday.
If a volunteer's temperature is between 99.2°F and 100°F a minimum of 7 days prior to the volunteer workday, that volunteer must monitor their temperature twice a day until their scheduled workday. If their temperature increases above 100°F, they are not allowed to attend the volunteer workday. If their temperature remains between the previously stated range, we ask that volunteers do not attend the workday out of an abundance of caution. 

Assess themselves for symptoms

If a volunteer has a combination of two of the following symptoms on the morning of the volunteer day, they are not allowed to attend the workday. 

Dry cough, sore throat, shortness of breath, new loss of taste or smell, headache, chills, repeated shaking with chills, muscle pain, fatigue, diarrhoea, runny nose.
Community Engagement
Volunteer as an Individual
RMFI runs hundreds of project workdays and mobilizes thousands of volunteers each year in the healing and restoration of public lands throughout Southern Colorado, with an emphasis on the Pikes Peak region. RMFI provides stewardship opportunities for a variety of volunteers ranging in age, skill level, and interest. Our expert field instructors lead volunteers on workdays that not only accomplish impressive on-the-ground results, but are also a whole lot of fun. We couldn't do what we do without volunteers and would love for YOU to join us!
Find a volunteer opportunity now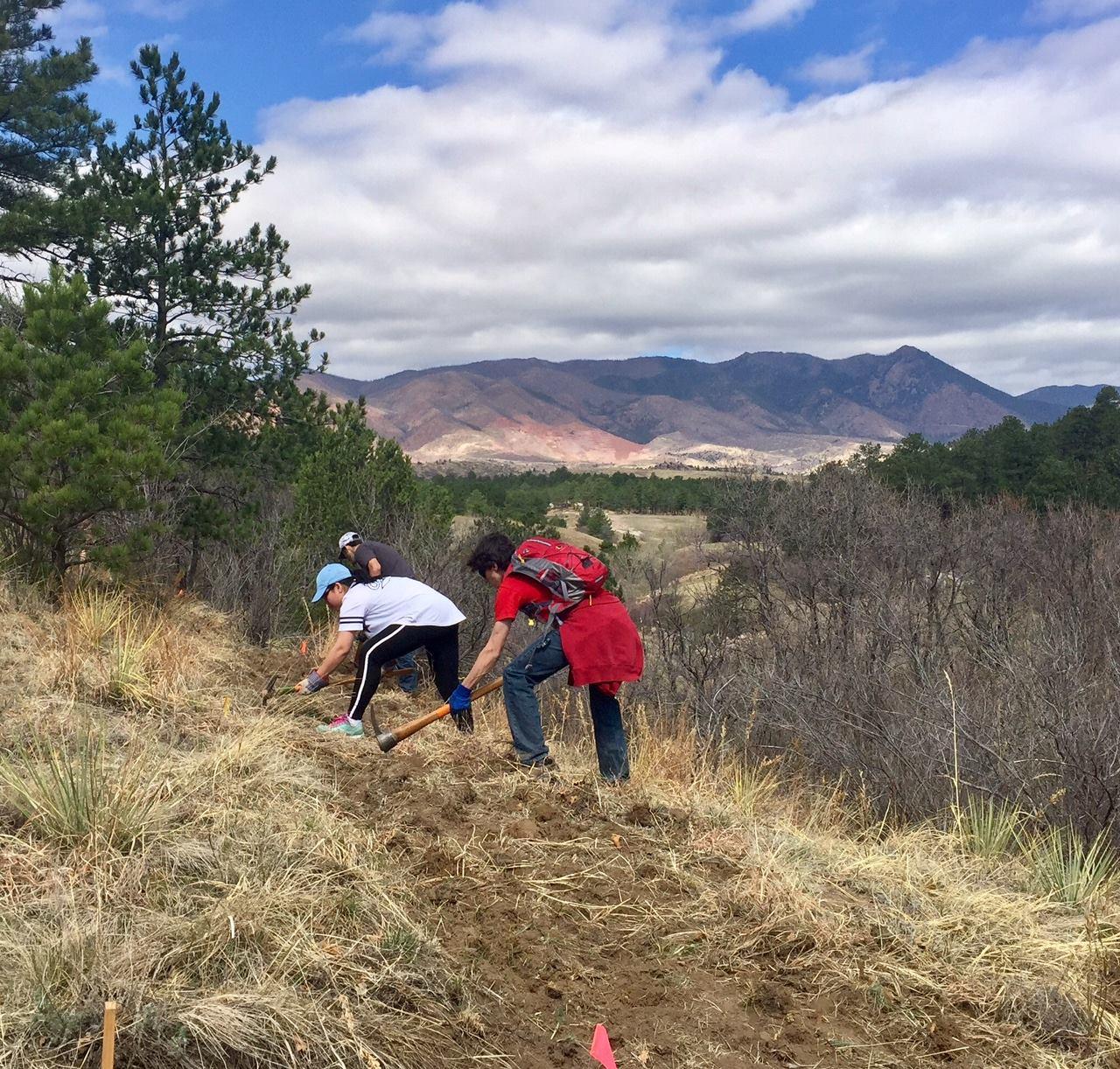 Community Engagement
Volunteer as a Team
RMFI workdays are great team building activity, a wonderful educational experience, highly rewarding, and a lot of fun. If your school, place of work, or other type of group has multiple people that would like to volunteer together, RMFI provides opportunities to incorporate your group on our community volunteer stewardship workdays posted on our calendar or will work with you to schedule a custom group workday! Custom scheduling is best for group sizes between 10 and 45 and we request a time commitment of between 4-7 hours between the hours of approximately 8am and 3pm. Our preferred days for group scheduling are Wednesdays through Sundays. If your group's size or scheduling don't quite fit within these parameters, please ask us and we will see what we can fit.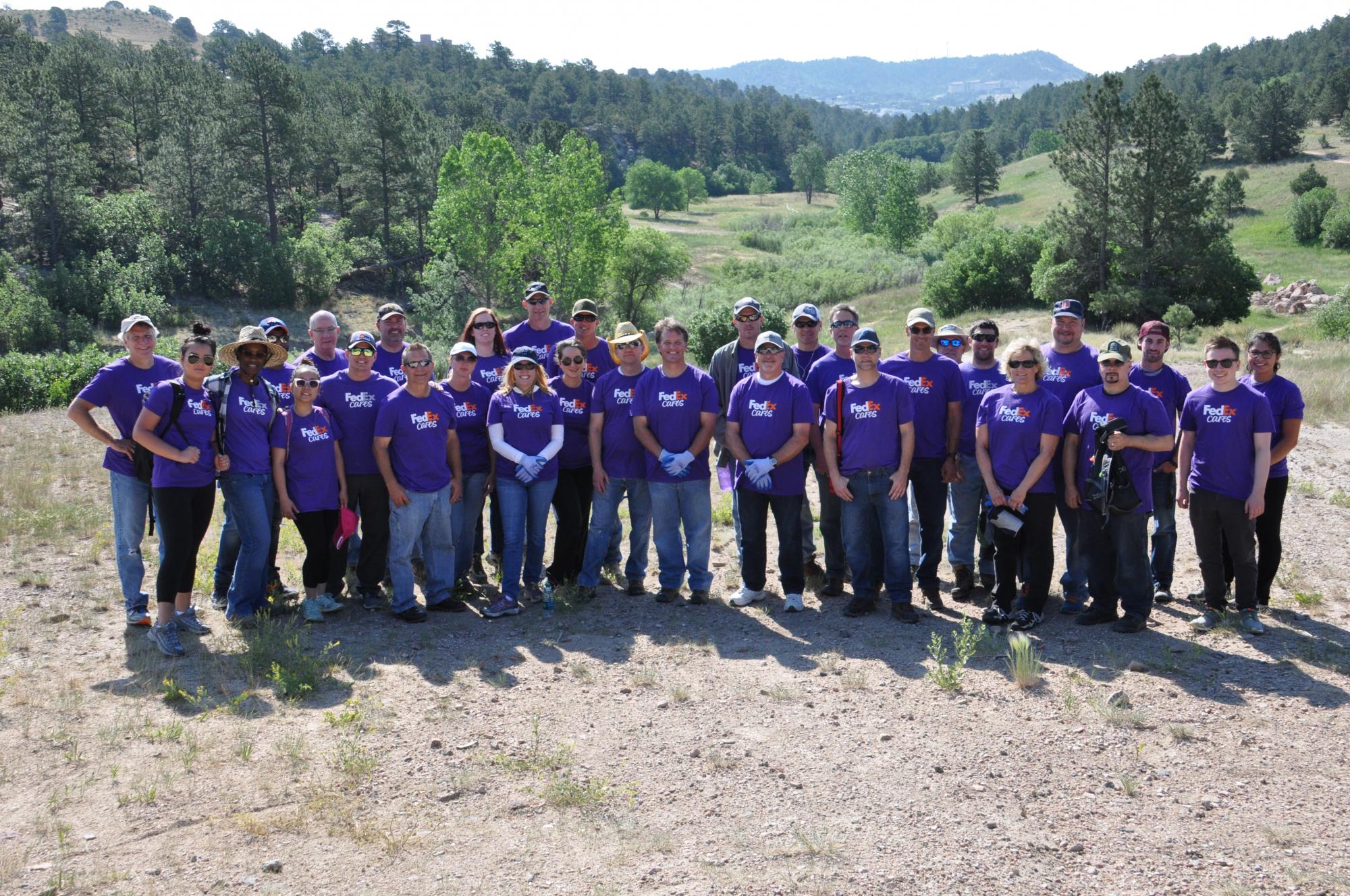 Group Volunteer Forms
To successfully submit, download the form that best represents your group, fill it out, and email to [email protected].
Need More Info?
If you're interested in volunteering either as an individual or as a group and need more info, don't hesitate to reach out to Elise Moeller, RMFI Volunteer & Partnership Coordinator, via email at [email protected] or by phone at 719-471-7736, ext. 4#.
Other Ways To Volunteer
Currently, we are not regularly working from our office space and do not need office volunteers at this time. We appreciate your interest and hope to offer office-based volunteer opportunities is the future.
Gear Volunteer
RMFI is seeking a dedicated individual to fill a Gear Volunteer position for the 2021 field season! This volunteer is asked to commit 3 to 5 hours a month from February through mid-December to help with equipment maintenance. Some examples of duties include properly sharpening tools, cleaning tools and gear of mud/dirt/rust, applying oil to steel tools, sanding and & re-oiling wooden handles, repairing tents and other camping equipment. Read the entire description here!  
Contact Alex Hladkyj, RMFI Program Manager, at [email protected] to learn more and schedule an interview!
Have a Question about Volunteering?
FAQs
Please refer to the FAQs at the top of the page for the most accurate information regarding our updated COVID-19 policies and guidelines for volunteering with RMFI.
Most RMFI workdays have a minimum age requirement of 16, or 13 if accompanied by a parent/guardian volunteer. Some of our more difficult or strenuous projects will have an age requirement of 16 or 18 years. We also run a small amount of Youth Workdays each year for volunteers as young as 8 years old. On Youth Days, volunteers aged 8-13 must be accompanied by a parent or guardian volunteer. Information on the age requirement for each individual workday will be listed on the calendar description. 
RMFI workdays are considered moderately strenuous or strenuous depending on project site and location. All workdays involve working in the outdoors for multiple hours with tools and often involve a walk or hike to and from the worksite from the parking area. Volunteers are encouraged to work at their own pace and breaks for lunch, snacks, and water are taken frequently and encouraged as needed. Volunteers accustomed to a reasonable level of physical activity are able to take part in most of our projects. Certain workdays that require a longer, more strenuous hike or more physically demanding work tasks on variable terrain are recommended to volunteers accustomed to a higher level of physical activity. Information regarding the physical demands of each project can be found in the workday descriptions on our calendar. 
Volunteers are not required to have any prior experience. Our staff of professional field instructors will start each workday with an orientation, tool usage and safety talk, and provide oversight throughout the day. For this reason, it is required that volunteers show up on time!
The majority of single day workdays run from approximately 8:30am to 3:00pm although some projects require a longer or shorter day. Custom group workdays must run for a minimum of 4 hours.
Yes! RMFI asks that volunteers only register for workdays if they are able to commit to the full timeframe of that day. This is because we have a mandatory orientation, safety and tool talk at the very start of the day and because we hike in and out of the worksite together while all pitching in to carry tools and equipment. Our field staff will also assign specific tasks to smaller groups of volunteers and it is disruptive to the workday when volunteers are coming and going.
For our community workdays listed on our calendar, volunteers may sign up through the calendar's online registration system.
First-time users must create a basic account to log-in to the calendar and access the online registration. Once your account is created you may log in at any time and quickly and easily register for the workdays of your choosing. Upon registering, you will receive an email containing additional details you will need for the workday including directions, map links, pack list, and more!
To sign up a group or 10 or more people for either a community workday or a custom group workday event, please contact Elise Moeller, RMFI's Volunteer & Partnership Coordinator, at [email protected] or 719-471-7736 ext. 4#!
Bring a water bottle and plenty of water, sack lunch, rain gear, eye protection (sunglasses will do), sunscreen, any other personal items needed to spend the day outside, and a backpack to carry your things. Wear sturdy & weather-appropriate clothes (long pants are required), and work shoes or boots (NO open-toe shoes). We have work gloves to loan but you are welcome to bring your own if you have them. For overnight programs, we will provide a packing list.
We run our workdays through light rain and other mild weather conditions. Please check the forecast and come prepared.
However, if we have to cancel for hazardous weather, or any other reason, we will notify registered volunteers via email no later than 1.5 hours prior to the start of the workday (sooner if possible) and will also make phone calls to volunteers as needed. If you need to cancel your registration, please let us know as soon as possible so that we can try to find a volunteer to replace you. We plan our work tasks, equipment, and staffing based on the number of volunteers signed up.
Unfortunately, we cannot allow your fluffy friends to join us on our volunteer day. While we love our animals, pets are not permitted at any of our volunteer events due to safety concerns, their impacts to wildlife, and other risks involved. 
Crew Leaders certified through the Pikes Peak Regional Crew Leader Training are welcome, and at times called upon, to assist us with leading volunteers when we have group sizes larger than our limited field staff can safely and effectively oversee. For more information about becoming a crew leader, visit our page detailing the Pikes Peak Regional Crew Leader Training.
You bet! Groups are welcome on our open enrollment workdays listed on our calendar. If your group consists of 10 or more volunteers available for a minimum of 4 hours, we may also be able to schedule a custom group workday for you. Although RMFI does not require a fee for custom group workdays, donations from corporate groups and welcomed and highly encouraged to help cover our costs associated with running the event.
Yes!
Office Volunteering: During our field season (March-December), RMFI is often in need of office volunteers to help with data entry to keep our database up to date. This is a flexible position requiring 5 to 15 hours per week on an ongoing basis. Good computer skills, accuracy, and attention to detail are a must. If you are interested, please contact RMFI at [email protected] or 719-471-7736.
Please direct your additional questions to Elise Moeller, RMFI's Volunteer & Partnership Coordinator: [email protected] or 719-471-7736 ext. 4#