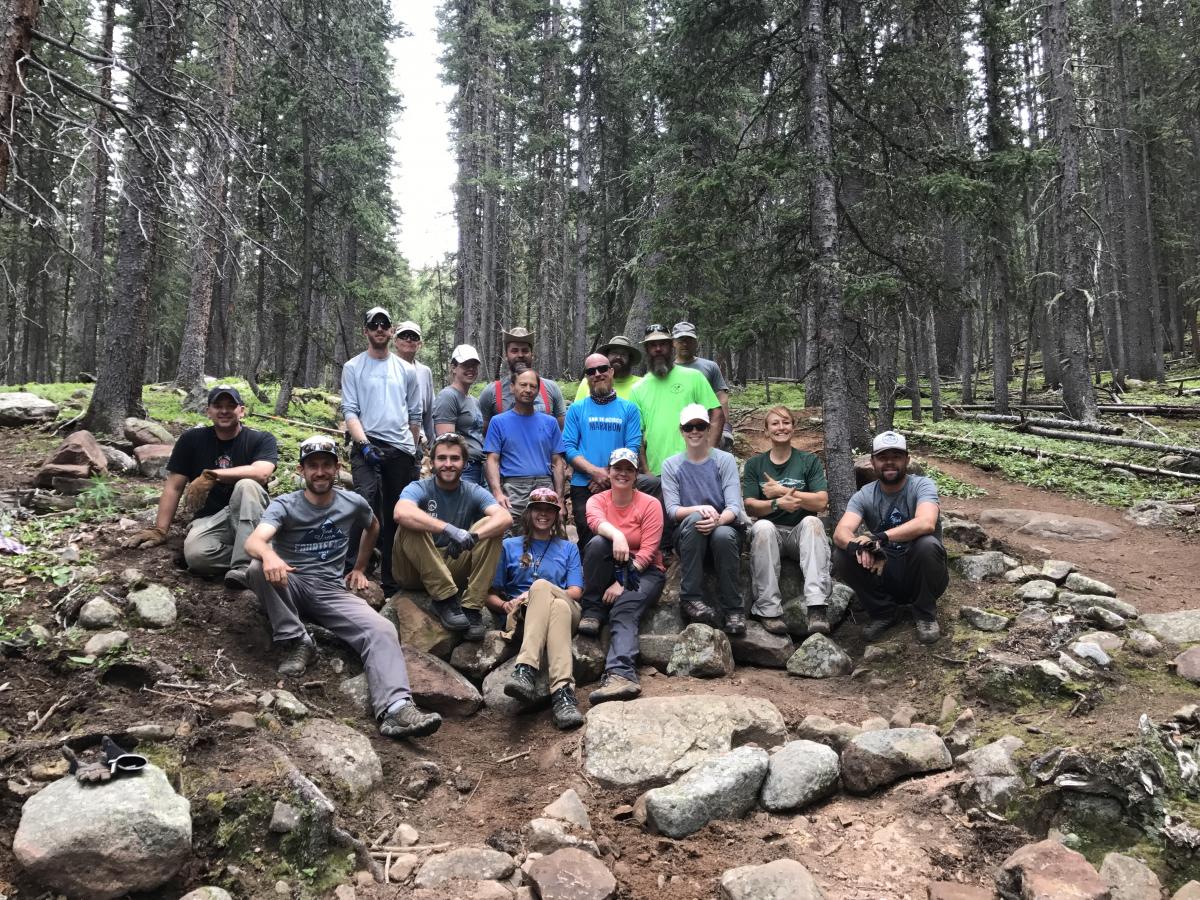 Devil's Playground Weekend
Saturday, August 17, 2019
to
Sunday, August 18, 2019
18, or 16 with an adult volunteer
Spend a weekend camping and constructing part of the new Devil's Playground Trail on Pikes Peak!
RMFI is partnering with Friends of the Peak, the Colorado Mountain Club, Mile High Youth Corps, and the U.S. Forest Service through the National Forest Foundation Find Your Fourteener campaign so that together we can do more on our majestic Fourteeners. We are working collaboratively to increase the pace and scale of trail improvements and ecological restoration. Our vision is to work together, with you, to build and maintain a sustainable trails network, ensuring these peaks remain healthy and inviting for decades to come. With help from skilled, passionate volunteers like you, we can complete even more on-the-ground work on Colorado's Fourteeners. 
On this special weekend overnight project, we will spend Saturday and Sunday, August 17-18 continuing the work to construct a new and improved Devil's Playground Trail. On Saturday night we will camp near the Crags Campground. The following meals will be provided, and will be delicious and hearty to fuel our trailwork!: Saturday light trail snacks and dinner, and Sunday breakfast, lunch, and snacks. (Volunteers should pack their own sack lunch for Saturday.)
BASECAMP AND EQUIPMENT
We will camp in an area near the Crags Campground on the west side of Pikes Peak. Carpooling from the RMFI office on Saturday morning and back on Sunday afternoon is available and highly encouraged in order to save spots at the Crags. Volunteers must supply their own personal outdoor gear. Volunteers may be asked to buddy-up in tents to make best use of available space. This is car camping and there is a vault toilet near the campsite. 
Further information to come as the event gets closer. 
REGISTRATION REQUIREMENTS
This is a moderately strenuous program entailing two full days of trailwork and a night of camping. No prior experience is necessary, however, participants must be in good physical condition and comfortable with tent camping.
Questions? Contact Molly Mazel, Volunteer & Partnership Coordinator, [email protected], (719) 471-7736 ext. 4#