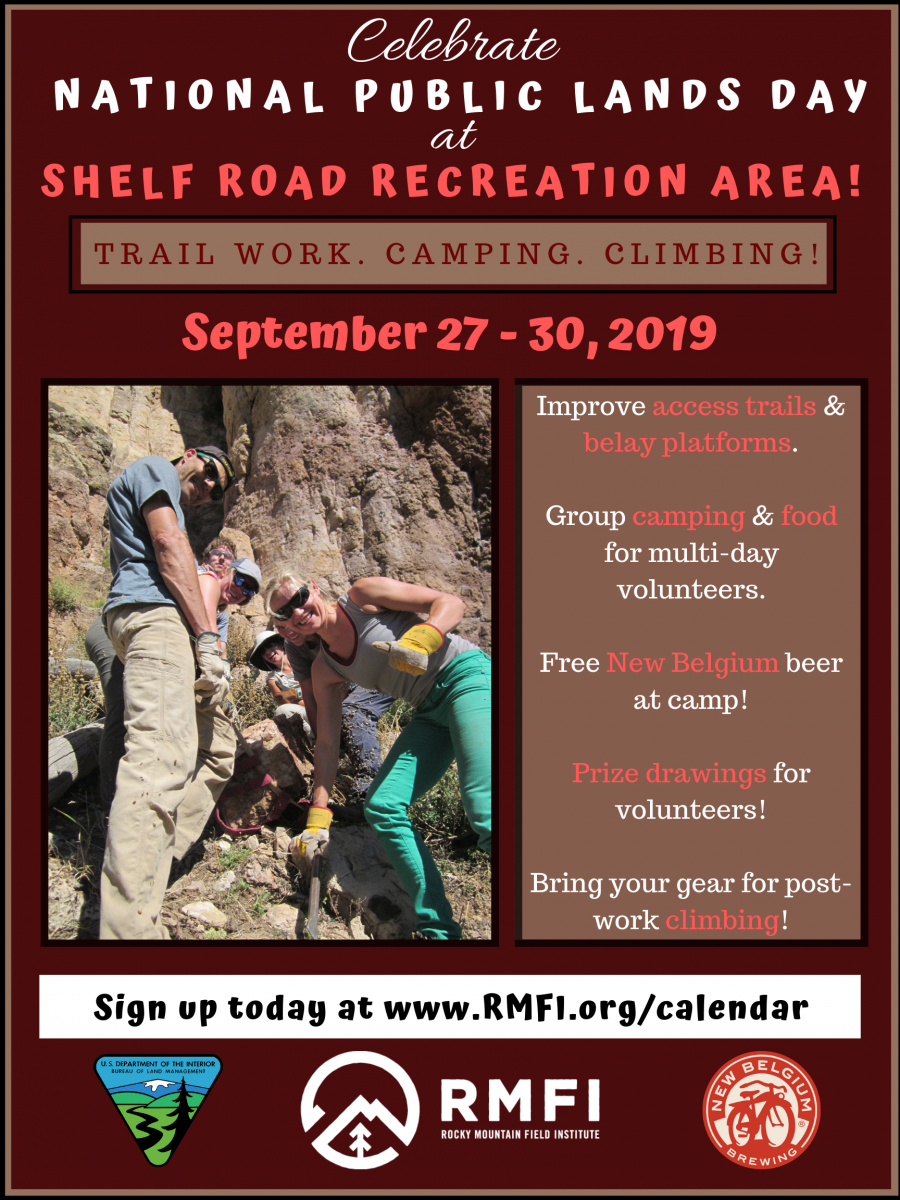 Nat'l Public Lands Day @ Shelf Road!
Friday, September 27, 2019
to
Monday, September 30, 2019
18, or 16 w/ and adult volunteer
RMFI's National Public Lands Day at Shelf Road is back! Shelf Road Recreation Area, outside of Cañon City, is a world-renowned sport climbing area. Come steward and celebrate this awesome piece of public land during a long weekend of trail work, camping, and climbing!

RMFI is partnering with the Bureau of Land Management, Royal Gorge Field Office to improve belay platforms at the Mammoth area, Ejection Wall, and Gym Arete, as well as trail tread maintenance at the Gym and New Gym crags. This project will involve plenty of rock moving, a bit of technical rock feature construction, and a lot of fun, strenuous, and rewarding work!

We will be working on access trails and belay platforms at Shelf for FOUR days, Friday through Monday, September 27-30, and we invite and encourage volunteers to work multiple days, camp out with us and enjoy the climbing! Scroll down for additional weekend highlights including food, beer, and prizes!
FOOD PROVIDED:
Celebratory National Public Lands Day camp cookout dinner on Saturday evening!
Sunday camp cookout breakfast.
Bagels and other light snacks will be provided throughout the entire weekend project, Friday-Monday.
Post-workday and post-climbing camp BEER provided by our sponsor New Belgium Brewing!!
CAMPING:
Volunteers wishing to camp should bring their own camping gear (tent, sleeping pad, sleeping pad, meals and cookwear for meals outside of the above listed meals provided).
This is car camping up at the Bank Campground where we will have reserved volunteer group sites. Please indicate which day(s) you will join us upon registration, and any dietary restrictions you have if staying to camp Saturday night.  
PRIZES:
Thanks to our project supporters in the climbing community, we get to raffle off some rad prizes to volunteers throughout the weekend! Join us for your chance to win cool stuff from: 
The Access Fund
Black Diamond
BLDG Active
Patagonia
Static Climbing
Pure Bouldering
Gearonimo Sports
Organic Climbing
RECREATION:
Volunteers who wish to go climbing after trail work wraps up at 3:00 any of the days should bring their gear! (This is not provided or guided by RMFI.) Climb on!