About RMFI
Our Mission: 
Rocky Mountain Field Institute conserves and protects public lands in Southern Colorado through volunteer-based trail and restoration projects, environmental education, and restoration research.
Stewardship, Education, Research
RMFI Today
The Rocky Mountain Field Institute is a 501(c)(3) nonprofit environmental organization based in Colorado Springs, Colorado, dedicated to the conservation and stewardship of public lands in Southern Colorado. RMFI is committed to protecting and enhancing the ecological health of our land and water resources by completing projects focused on watershed restoration, forest health, and creating sustainable outdoor recreation opportunities. By prioritizing the involvement of community volunteers and youth, RMFI envisions a world where our work fosters vibrant and healthy natural systems that are respected and cared for by the public.
Back To Our Roots
Founder's Story
Founded in 1982 as the American Mountain Foundation, the Rocky Mountain Field Institute was originally established to provide funding for international climbing expeditions. During the mid-1980s, AMF Executive Director, and climber and mountaineer, Mark Hesse, began to notice the environmentally degrading impacts of climbers and other recreationists. He observed that these beautiful and treasured landscapes were quickly at risk of losing the very characteristics that drew people to them. In 1989, Mark catalyzed a group of friends and fellow climbers and began building trails and restoring impacted areas in Indian Creek Canyon, an internationally renowned climbing mecca in the dramatic desert landscape of Utah.
A decade later, Mark and his grassroots organization that became the Rocky Mountain Field Institute in 1997, had protected acres of sensitive terrain by closing roads leading into side canyons, established a sustainable trail and camping infrastructure, and raised the awareness of climbers and land owners in the area. In the 1990s Mark focused his efforts on climbing areas in Colorado, such as Eldorado Canyon, Shelf Road, and "Fourteener" summit trails. Today, RMFI still works at climbing areas in Colorado and Utah, but has grown to encompass a larger and more diverse skills set, tackling projects in the alpine and montane, watershed ecosystems, riparian zones, and sensitive foothill environs. In January 2014, Mark tragically passed away in a climbing accident. It is with great honor that we continue to carry on Mark's legacy at RMFI more than 40 years after its founding.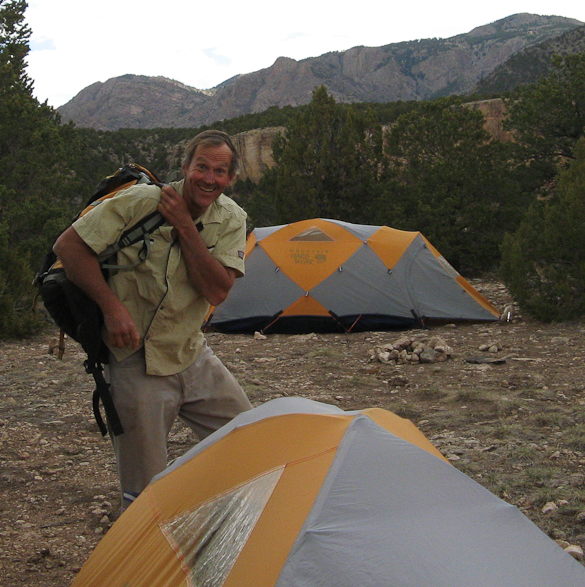 Excellence in Programs. We are committed to providing the highest standard of programming for our project partners, supporters, and participants.
Volunteerism. We will implement a restoration model that centers on community involvement as a means of connecting people to the outdoors, promoting a healthy lifestyle, and fostering an ethic of environmental responsibility and stewardship.
Outdoor Recreation. We are committed to providing sustainable outdoor recreation opportunities for a multitude of users. 
Environmental Education. We respect the natural environment and seek to provide the opportunity for youth and adults to enjoy our natural world. Through our educational efforts, we will seek to develop the next generation of environmental leaders and stewards.
Science-Based Solutions. We are committed to furthering the field of restoration through the study and application of science-based solutions.
Inclusiveness in Partnerships. We encourage strong and diverse partnerships through broad stakeholder and public participation.
Integrity in Actions. We are committed to holding ourselves to the highest degree of responsibility and accountability.
Courage. In furthering our mission, we will have the courage to undertake difficult and complex projects.
Generosity of Others. We are committed to being responsible stewards of the time, money, and gifts entrusted to us. 
1% for the Planet
American Hiking Society
Bear Creek Roundtable
Better Business Bureau Accredited Nonprofit Organization
Camber Outdoors
Colorado Nonprofit Association
Colorado Outdoor Stewardship Coalition
Colorado Springs Chamber & Economic Development Corporation
El Paso County Regional Resiliency Collaborative
Friends of Garden of the Gods, lifetime member
Front Range Roundtable
Guidestar Platinum Member
Leave No Trace
National Wilderness Stewardship Alliance
Pikes Peak Outdoor Recreation Alliance
Super Friends Group; Colorado Springs Parks, Recreation, and Cultural Services
Trails and Open Space Coalition