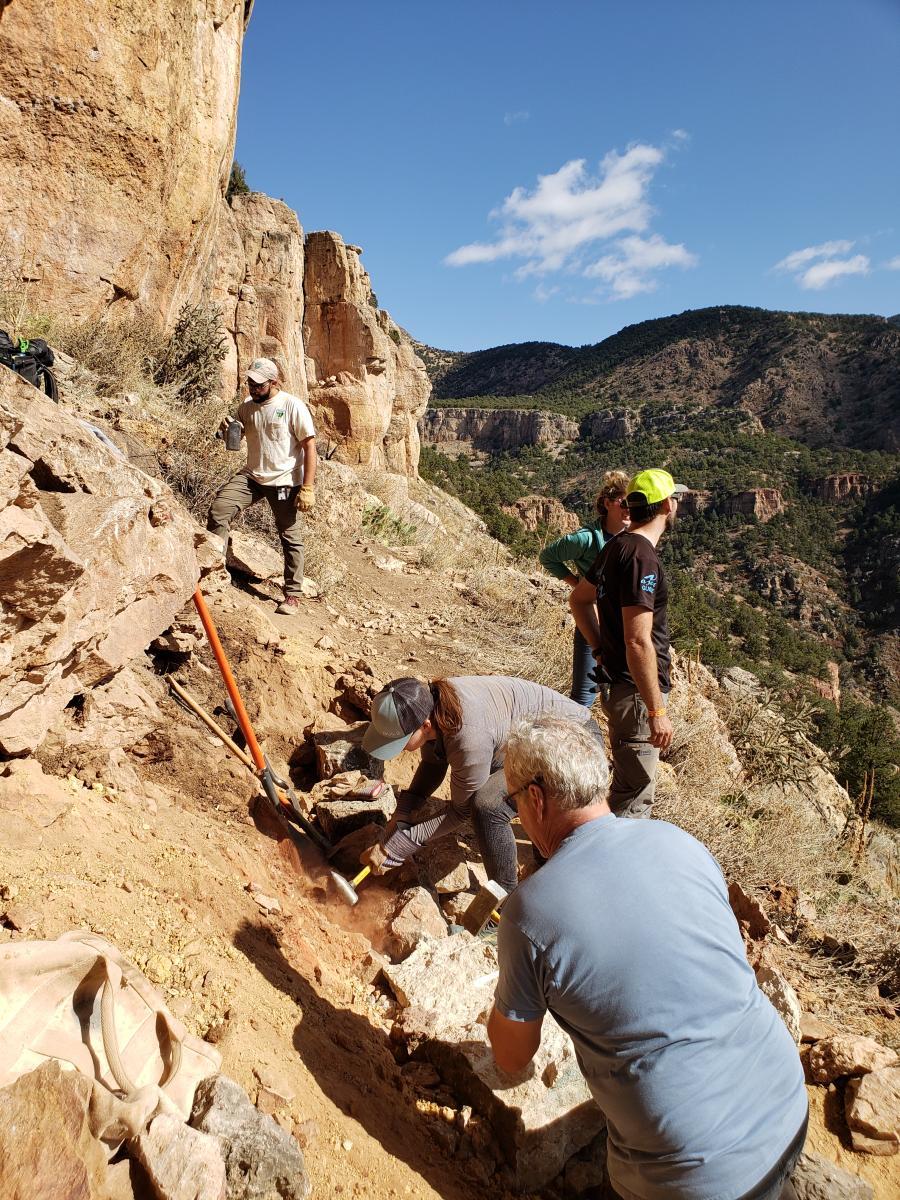 Nat'l Public Lands Day Weekend at Shelf Road: Day #2
Sunday, September 27, 2020
Join RMFI, The American Alpine Club, and Pikes Peak Climber's Alliance to celebrate National Public Lands Day at Shelf Road Recreation Area! Shelf Road, outside of Cañon City, is a world-renowned sport climbing area.

RMFI is partnering with the Bureau of Land Management, Royal Gorge Field Office to improve belay platforms at the Mammoth area, Ejection Wall, and Gym Arete, as well as trail tread maintenance at the Gym and New Gym crags. This project will involve plenty of rock moving, a bit of technical rock feature construction, and a lot of fun, strenuous, and rewarding work!

*Times Slots: To ensure group sizes of 10 or less, we will be hosting volunteers at staggered start times. You will be assigned a time slot after you register! The three time slots available are 8 a.m. to 2:30 p.m., 8:15 a.m. to 2:45 p.m., and 8:30 a.m. to 3 p.m.*
Please review our FAQs from volunteers during the COVID-19 pandemic prior to registering for this volunteer day. At this time, we are only allowing volunteers who are 18 years of age or older to participate in our community workdays. Also, if you live with or are in close contact with vulnerable individuals, we ask that you reconsider participating in RMFI activities at this time.
Prizes:
Thanks to our project supporters in the climbing community, we get to raffle off some rad prizes to volunteers.
Climbing & Leave No Trace Workshop:
After the workday, we invite you full send on the bomber climbing routes around Shelf! Please bring your own equipment. This is not provided or guided by RMFI. 
At 6 p.m., we will be hosting an optional Leave No Trace workshop accompanied by a cold beer! Through this training, you'll learn more about stewardship practices through the 7 principles of Leave No Trace. We are only allowing a group of 8 volunteers to participate in this workshop. Please identify in your registration if you are interested in attending the workshop!
Camping: 
Due to the COVID-19 health crisis, we will not be providing camping spots to volunteers this year. If you would like to camp, please make your own arrangements.
And due to the health crisis, please note that this volunteer workday is subject to change or cancellation to protect the health and safety of our volunteers and our staff.