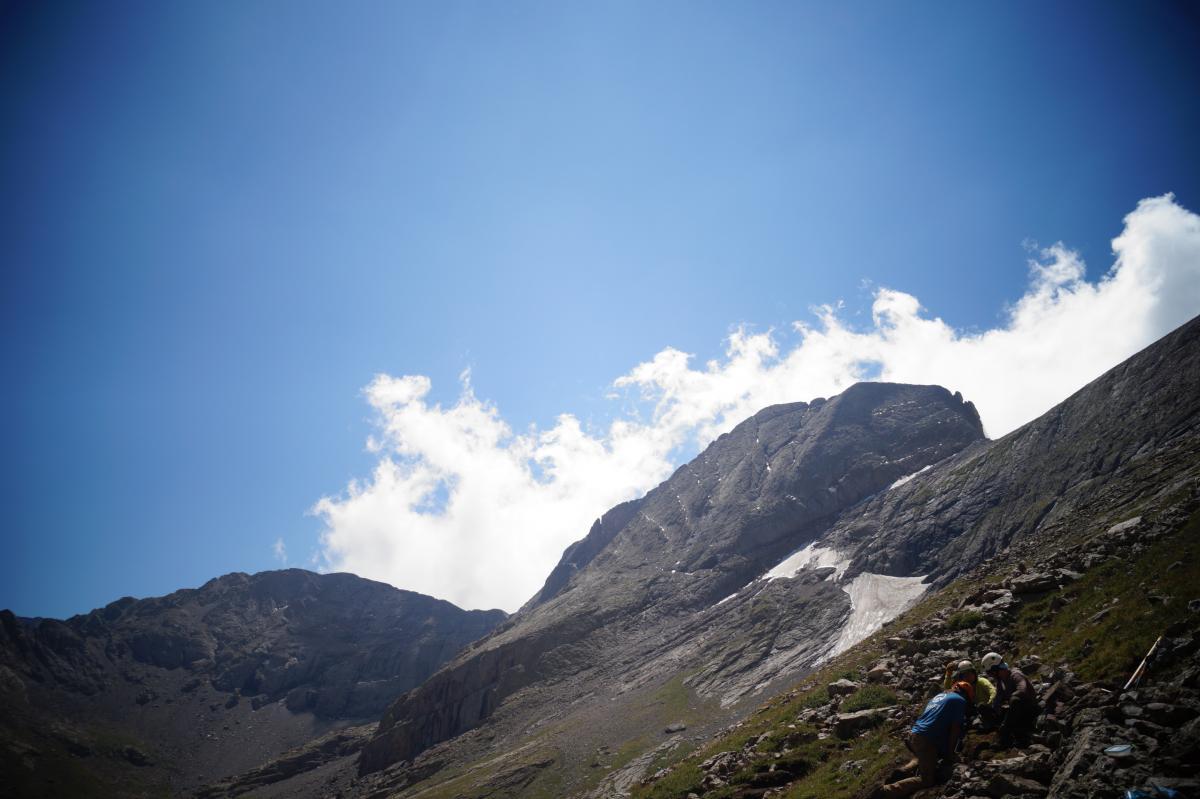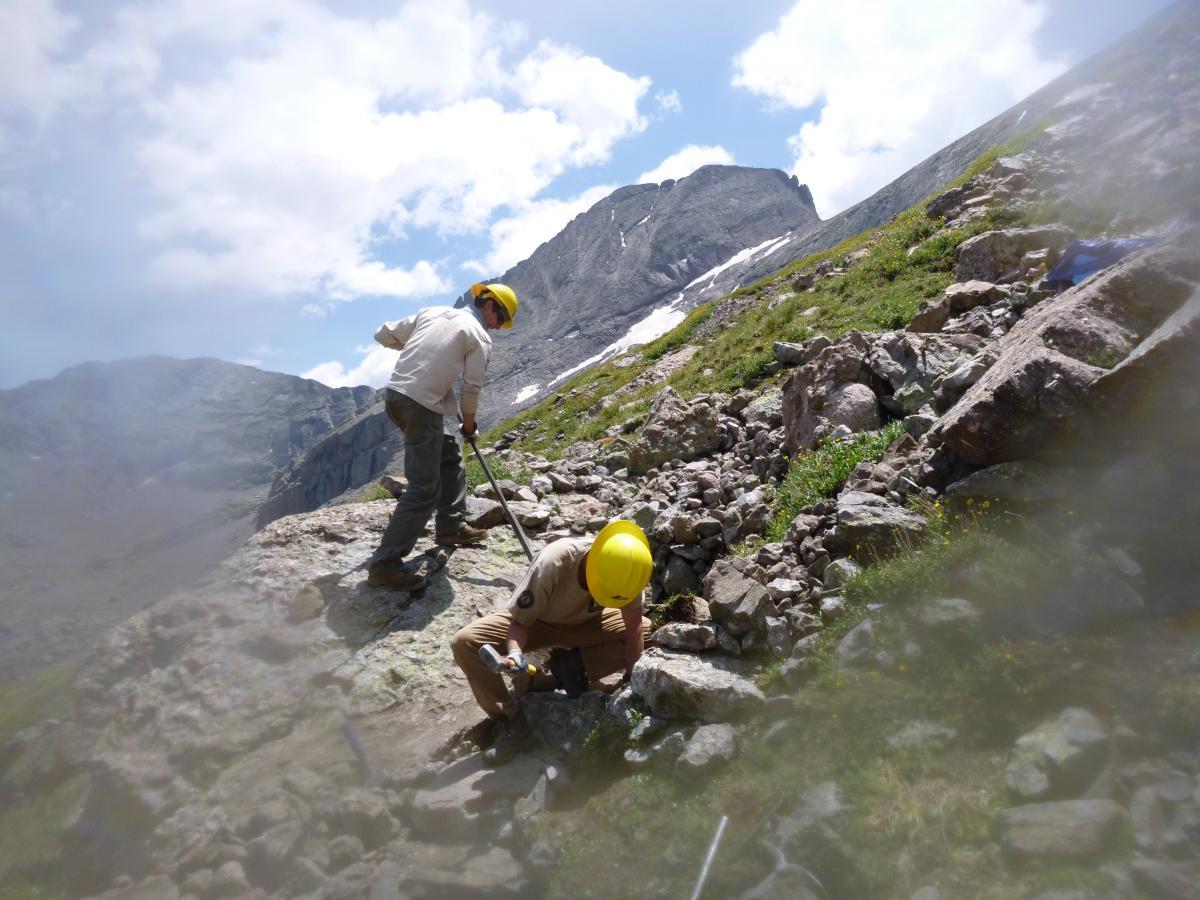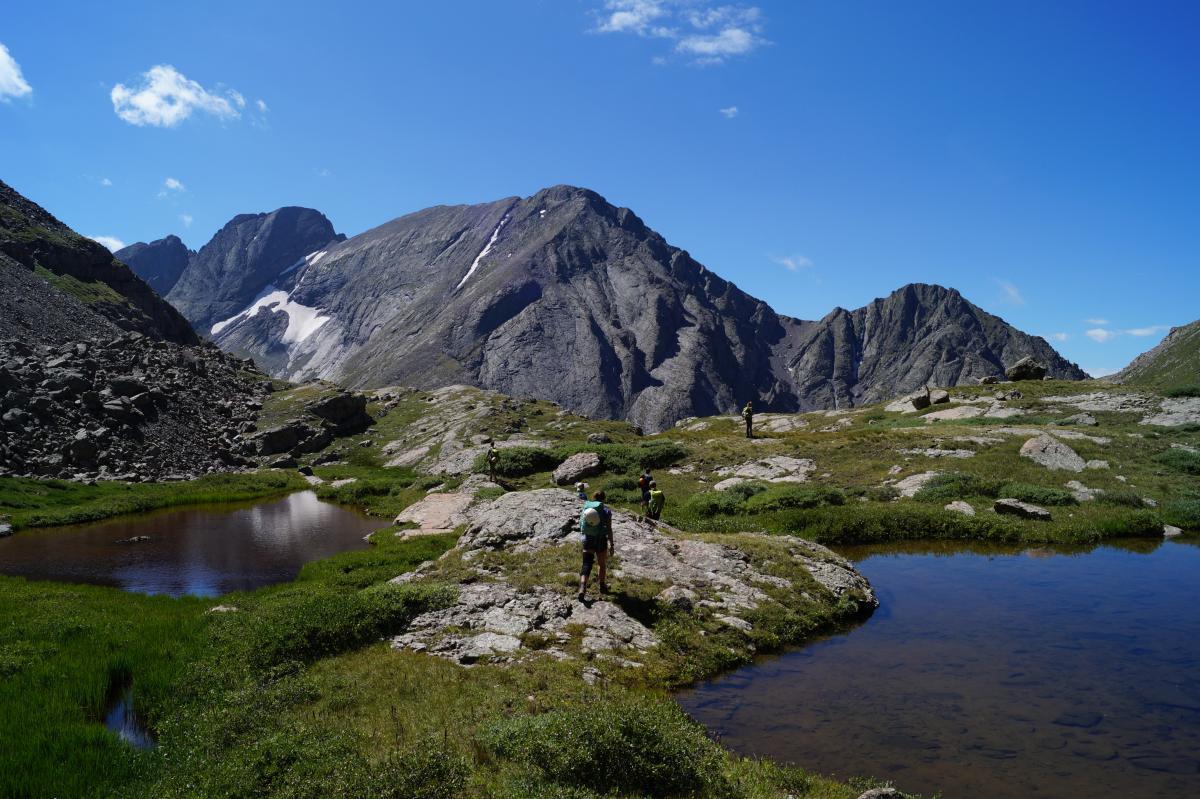 Kit Carson Peak & Challenger Point
Project Status
Past Project
RMFI completed the technical reroute of the new summit trail to Kit Carson Peak and Challenger Point in September 2020! Thanks to the help of so many partners over the years who saw the project to fruition.
The fourth highest mountain in the Sangre de Cristo mountain range, Kit Carson Peak (14,165') and Challenger Point (14,081') towers over 6,000 feet above the San Luis Valley floor. Kit Carson generally refers to the three main summits that make up the massif: Kit Carson Peak, Challenger Point, and Columbia Point (informally known as Kat Carson). These peaks and Willow Lake Basin are a popular recreation spot for hikers, climbers, anglers, and backcountry enthusiasts. Sadly, these 14'ers and many more across the state are being loved to death.
The Kit Carson-Challenger Ridge Trail Project is designed to manage the high-use impacts of Willow Lake Basin. Work completed during this project will not only reduce the impact of visitors on this fragile ecosystem, but will enhance the quality of the recreational experience by creating a new, sustainably-designed route for summiting Kit Carson and Challenger Point. The current user-created social trail is gullied, unsafe, and unpleasant for hikers. The current trail also crosses environmentally fragile areas including populations of sensitive alpine plants and an alpine wetland east of Willow Lake. The project combines re-routing the current social trail to a more durable and sustainable location and reconstructing and stabilizing usable sections of the existing alignment with in-trail structures including rock steps and retaining walls. Work will also involve the closure and complete restoration of the improperly aligned social trail. By the end of the the project in 2020, a sustainable trail will provide access from the Willow Creek Trailhead to Kit Carson and Challenger Point, approximately 7.25 miles in total.
NATIVE LANDS
We recognize the following nations, whose traditional territories we worked on in the Sangre de Cristo Mountain Range:
Núu-agha-tʉvʉ-pʉ̱ (Ute)
Cheyenne
Jicarilla Apache
WORK OBJECTIVES
The primary project goal is to contribute to the preservation and restoration of the wilderness character of Willow Lake Basin and the quality of the recreational opportunities the area provides by reducing present and future recreational impacts on Kit Carson Peak and Challenger Ridge and the approach route corridor. Specific project objectives include:
Constructing a safe and sustainable summit trail from Willow Lake to Challenger Ridge
Re-routing the current trail away from environmentally sensitive areas
Protecting fragile land and water resources by restoring past recreational impacts including social trails, erosion gullies, and undesignated campsites.
Providing land stewardship and environmental leadership opportunities to engage local students, citizens, and stakeholders
PROJECT PARTNERS AND FUNDERS
Clif Bar Foundation
Colorado Fourteeners Initiative
Colorado Parks and Wildlife
Colorado State Trails
Earth Corps participants
Front Range Pika Project
Gates Family Foundation
National Forest Foundation
Outward Bound
Patagonia
Southwest Conservation Corps
University of Colorado - Colorado Springs
U.S. Forest Service
Get involved
If you are interested in donating your time to this project or other similar projects, please check our calendar for workday opportunities or contact Calla Balliett, our Volunteer & Partnership Coordinator with any questions: 719-471-7736 ext. 4# or [email protected]