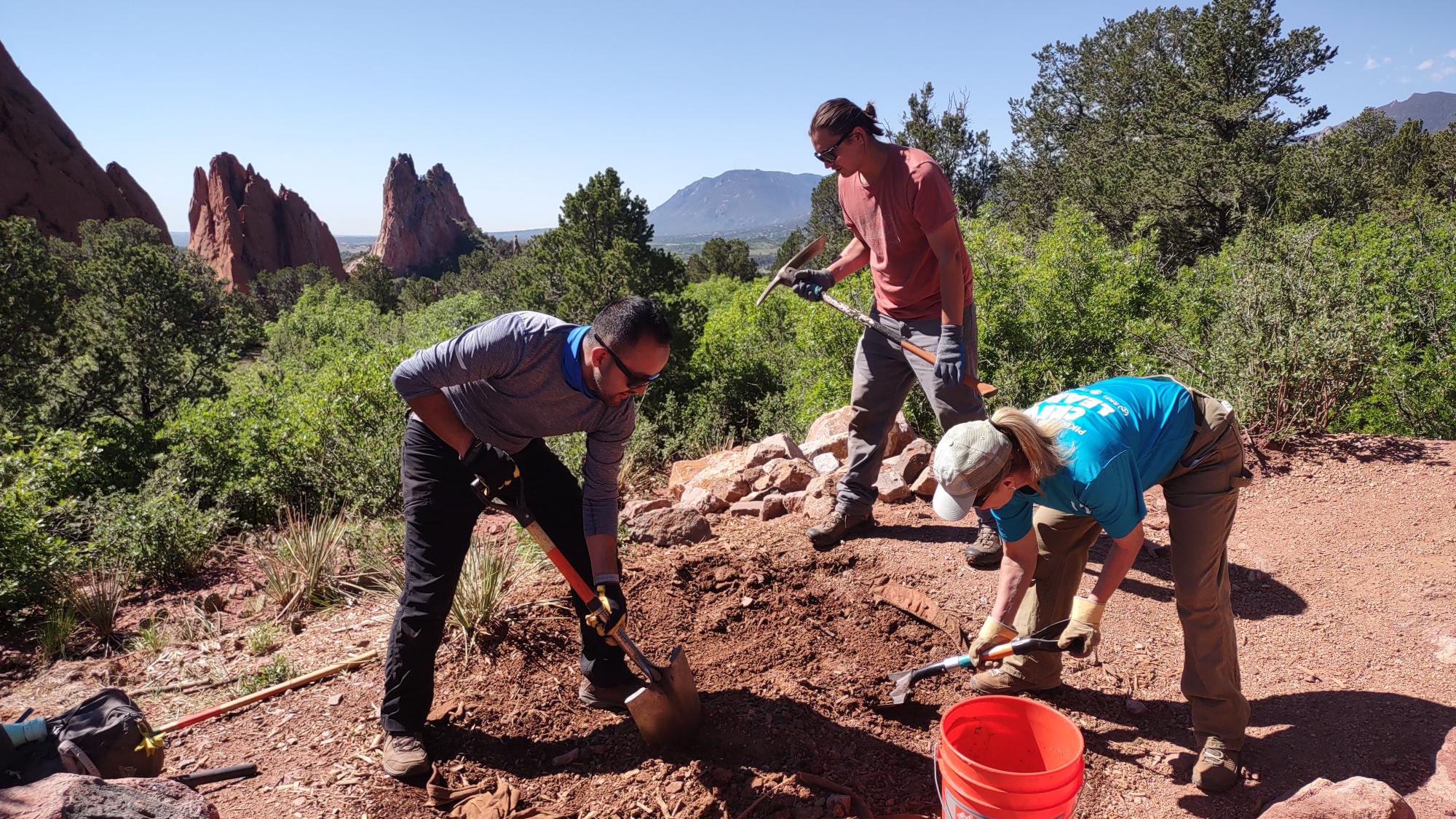 Garden of the Gods
Project Status
Current Project
The Garden of the Gods Park is a Natural Historic Landmark managed by the City of Colorado Springs Department of Parks, Recreation, and Cultural Services. One of the most popular destinations in the Western United States, with an estimated 5 million local, national, and international visitors each year, the Garden of the Gods stretches the traditional definition of a city park. Given the park's relatively small size (1,300 acres), the visitation density far surpasses any similar site in the region.
Decades of high use have taken a heavy toll on the park, leaving the natural integrity of the Garden of the Gods at serious risk. Major threats include soil erosion, loss of native plant communities, invasive plants, wildlife disturbances, and the poor condition of the park's trail system. In 2000, RMFI completed the Garden of the Gods Restoration Report that evaluated the ecological health of the park, presented a list of recommendations to address the major threats to the park, and determined the cost for implementing the report's recommendations. In 2018, RMFI completed an updated condition assessment of the trails in the Park. That document will guide the organization's stewardship objectives over the coming years.
NATIVE LANDS
We recognize the following nations, whose traditional territories we work on at Garden of the Gods Park:
Cheyenne 
Núu-agha-tʉvʉ-pʉ̱ (Ute) 
WORK OBJECTIVES
Maintaining and improving the park's trail system.
Closing and restoring visitor-created social trails.
Assisting with the control and eradication of non-native, noxious plants and restore native plant communities.
Completing erosion control and stabilization projects.
Developing and implementing a visitor education program based upon the stewardship and restoration of the park.
Engaging the community in the hands-on restoration of the park's resources.
PROJECT PARTNERS AND FUNDERS
Broadmoor Garden Club
Catamount Institute
Friends of Garden of the Gods
Garden of the Gods Foundation
Garden of the Gods Trading Post
Garden of the Gods Visitor and Nature Center
Lodgers and Automobile Rental Tax, City of Colorado Springs
Lyda Hill Philanthropies
National Fish and Wildlife Foundation
Get involved
If you are interested in donating your time to this project or other similar projects, please check our calendar for workday opportunities or contact Calla Balliett, our Volunteer & Partnership Coordinator with any questions: 719-471-7736 ext. 4# or [email protected]